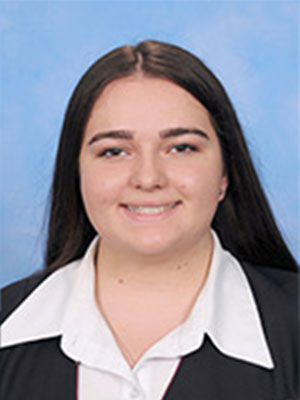 Our Year 12 student who received an Archbishop's Award for Student Excellence this year is no stranger to the power of faith and action. Meet Cassandra Cecconi.
The Archbishop's Awards acknowledge the commitment to their faith, academic life, community and social justice of one student from each of 50 secondary schools in the Catholic Archdiocese of Sydney.
The 2021 awards were presented by Archbishop Anthony Fisher OP during a live video conference for the students, their parents and principals on Friday 3 September.
This year's Casimir College Marrickville recipient is Cassandra Cecconi.
Cassandra Cecconi is a young lady with a strong commitment to her faith and an unwavering dedication to social justice issues.
Cassandra is a person of action who participates in all areas of the liturgical and evangelical life of Casimir Catholic College. She is an active member in her Parish of All Hallows Five Dock. She is a member of the Church's Youth Group where she engages in discussions around prayer, bible passages and the lives of the Saints, drawing from these life inspirations on how to live justly and empathetically.
She also assists with the leadership of the children's liturgy which occurs every Sunday morning.
In word and in action, Cassandra reflects the true essence of servant leadership and is compassionate and thoughtful to the needs of others.